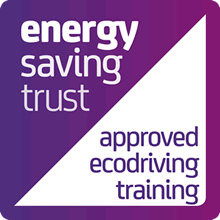 FREE Eco-Safe Driver Training
There are many techniques which drivers can use to significantly reduce fuel costs, one of the best way for drivers to learn these techniques is to participate in a one hour Eco-driving training session. These sessions have a proven track record and have helped drivers to achieve considerable savings on fuel, as well as reducing accident risk. Drivers are trained by suitably qualified fleet driver trainers.
The key benefits of Eco-driving include:
15% reduction in fuel consumption*
15% reduction in CO2*
The scheme is open to drivers of cars and vans (not exceeding 3,500kg) with either an manual or automatic transmission
The training is subsidised and can be free
* According to DfT figures
Please note:
The Scheme only operates in England
Training must take place in England
Training is not available to private individuals.
Golden rules to save fuel
Anticipate Traffic Flow
Maintain a steady speed at low engine speed
change up through the gears early
Check tyre pressures regularly (at least once a month)
Remove roof racks when not in use
Drive at an appropriate speed and within the speed limit
Remove any unnecessary clutter from the vehicle
The video below will give you some more information